Termination – for all of you getting flashbacks to old Arnold Schwarzenegger films, take a deep breath, I'll be back.
In this blog, we'll be talking about the different ways to terminate (or end), a cord. People have different reasons for choosing certain ends to cords.
Cords can end in three different ways: First, we have the typical plug and connector. Then, there's a stripped wire, and following is custom termination. Standard power cords feature a plug and a connector. These types of cords can be used to power computers, appliances, electronics, etc. Both ends can be plugged in or unplugged.

Other people choose cords with one end featuring exposed wire. This can also be referred to as an ROJ, which stands for Removed Outer Jacket. These types of cords can be used to hardwire a device by soldering the wires onto the device directly. For example, the cords on lamps are usually directly attached to the base of the lamp. One end is detachable so the lamp can move around. These types of cords are often used to hard-wire devices.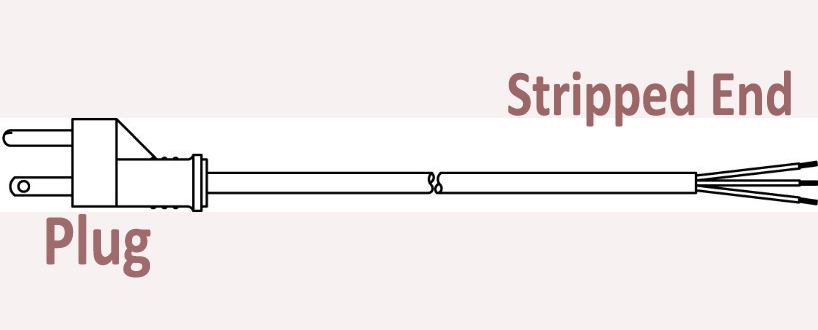 Others choose custom, featuring specific terminations. People often use these when they need their wire to end in a certain way.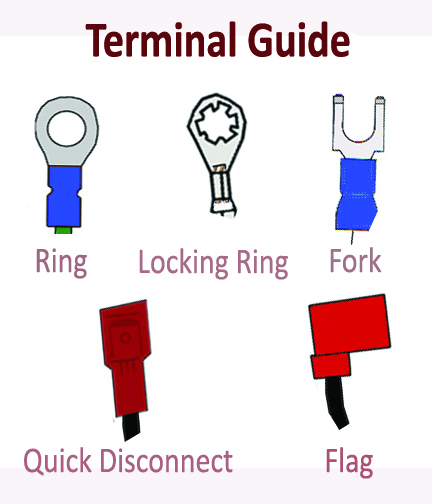 There are several custom terminals:
The "Ring" terminals are often used to ground a wire in a device.
"Locking Ring" terminals allow for a more secure connection.
The "Fork" or "Spade" terminal allows for a fast connection of wire.
"Quick disconnect" terminals are used for times when a wire needs to be disconnected in a timely manner.
A "Flag" terminal is similar to a quick disconnect terminal, only at a left angle.
Choosing which type of termination you need largely depends on what your goal is. Some people may be looking for a standard power cord while others may need a custom termination to work on their motorcycle.