In a blog posted a few months back, when discussing test procedures, we mentioned multiple tests that power cords must undergo before being approved by safety agencies. To refresh your memory, some of the tests we talked about were:
Grounding test
Continuity test
Hi-pot test
Polarity test
Insulation test
Pull-test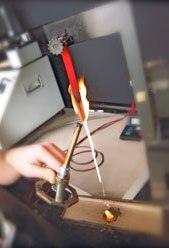 Today we will be discussing another important test to be done – flame rating (or flame resistance) test. Fire safety is a huge concern when working with all different types of wires, cables, and cords. All safety measures should be taken to make sure your power cord meets fire prevention requirements for the device. Underwriters Laboratories (UL) focus specifically on product safety. In order for your power cord to be approved by UL Standards, it must first go through multiple flame tests.
First, we'll start with an FT2 horizontal flame test for flexible cords. This test includes a series of cycles. In the course of each cycle, a burner flame burns a horizontal sample for 15 seconds then is turned off for an additional 15 seconds. Or it will burn until the sample stops smoking before 15 seconds have passed and must not go beyond 100mm from end to end. This process is repeated 5 times. Continue reading Flame Rating. Feel the Burn.