Now the title of this post may lead to some initial confusion.  Some of you may be asking, "what is a ground pin?"  For those of you who are more familiar with plugs may be asking, "why would you even cut one off?"  And, unfortunately, some may be asking,  "what's the big deal with cutting it off?"
Let's cover some basics.  For those of you who are not up to date on plug anatomy, we'll start simple.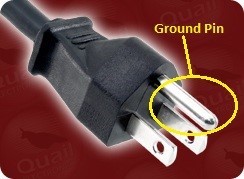 First, look at a 3-prong plug (this one is called a NEMA 5-15P).  Notice that there are two flat pins shaped similarly with a third rounded one.  The rounded pin is called the ground pin.  Now, look at your outlet.  If your house or office was built after the 1920's, you should notice that there are three holes (the outlet for a NEMA 5-15P is called the NEMA 5-15R). Two are side by side and one is at the bottom, forming the "mouth" of the outlet's face.  This mouth is referred to as the grounded hole and perfectly fits the ground pin.
You may notice that two-pronged equipment works just as well as 3-pronged equipment in these outlets.  Maybe you only have access to 2-prong outlets but are stuck with a 3-prong device.  Or perhaps you realized that you bought a 2-prong extension cord instead of one with 3-prongs.  You figure the equipment you are using will work just as well without the ground pin, and decide to cut it off.  What you are doing, however, can be very dangerous. Continue reading Never Cut the Ground Pin